"It is my goal to give you a better understanding of your child's headaches.
Use it with the medical resources available to you, to help your child."
-- Dr. Sarah Cheyette, MD
Clearly, many parents can benefit from a guide to help them understand their child's headache: what might be causing it, how to treat it, and how to keep it from controlling their child's life as well as their own.
As no such book by a doctor was available, Dr. Cheyette was urged by her patients to provide something for their home reference -- this informative, easy to understand guide is the result, laced through out with summary boxes, anecdotes, and diagrams.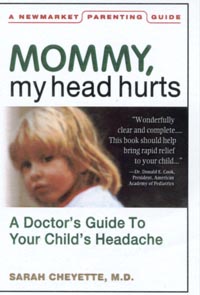 From a sympathetic and caring pediatric neurologist -- A wonderfully written book for the parents of children with headaches, to help them deal with their child's pain and improve the quality of life for their entire family.
Dr. Cheyette offers practical advice on all kinds of headaches and how to treat them, with or without medications, using traditional and nontraditional methods; discusses how to deal with doctors and what question to ask them; and covers a child's concept of pain and how they express it.
This book is a must-read for all families and caregivers